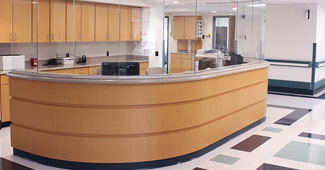 Although producing high quality products at low costs is at the core of HOFF Enterprises, Inc., we also take our commitment to the environment seriously.
Our commitment to excellence is reflected in our certifications and memberships in the Mid Atlantic Builders Exchange, the Pittsburgh Builders Exchange, the Architectural Woodwork Institute (AWI), the Forest Stewardship Council® (FSC®), and the Sustainable Forestry Initiative® (SFI). We also offer capabilities for Leadership in Energy and Environmental Design (LEED).
HOFF has been a member of the Better Business Bureau since 2007, and received the "Commitment to Excellence through Technology" Award in 2009 from the Woodworking Machinery Industry Association. We also received the "2012 MBA Building Excellence Award for Best New Construction under $10 million" and "2012 MBA Building Excellence Award for Best Renovation Construction under $10 million."
At HOFF, we believe that it's important to invest in others who are investing in our community. We also believe that the youth need to be supported by the community as well, because they are our future.